While we have been ready for months for our La Femme Prom Dresses 2019 Collection to debut, the rest of the country is just now starting to think about prom dress shopping. Whether you are researching where to buy the best prom dresses, or already have your color and silhouette picked out, this article is to help you start this process!
First – there are so many prom dress colors to choose from, and sometimes starting with which color you want to wear is the easiest thing to do. Mauve prom dresses and blush prom dresses are proving to be a beautiful trending color that is feminine and pretty! Maybe you aren't feeling so girly, and would rather go with a red prom dress or long burgundy prom dress to stand out while still having a classic vibe. Pastel prom dresses are IN and you can achieve that look with cloud blue or pale yellow dresses.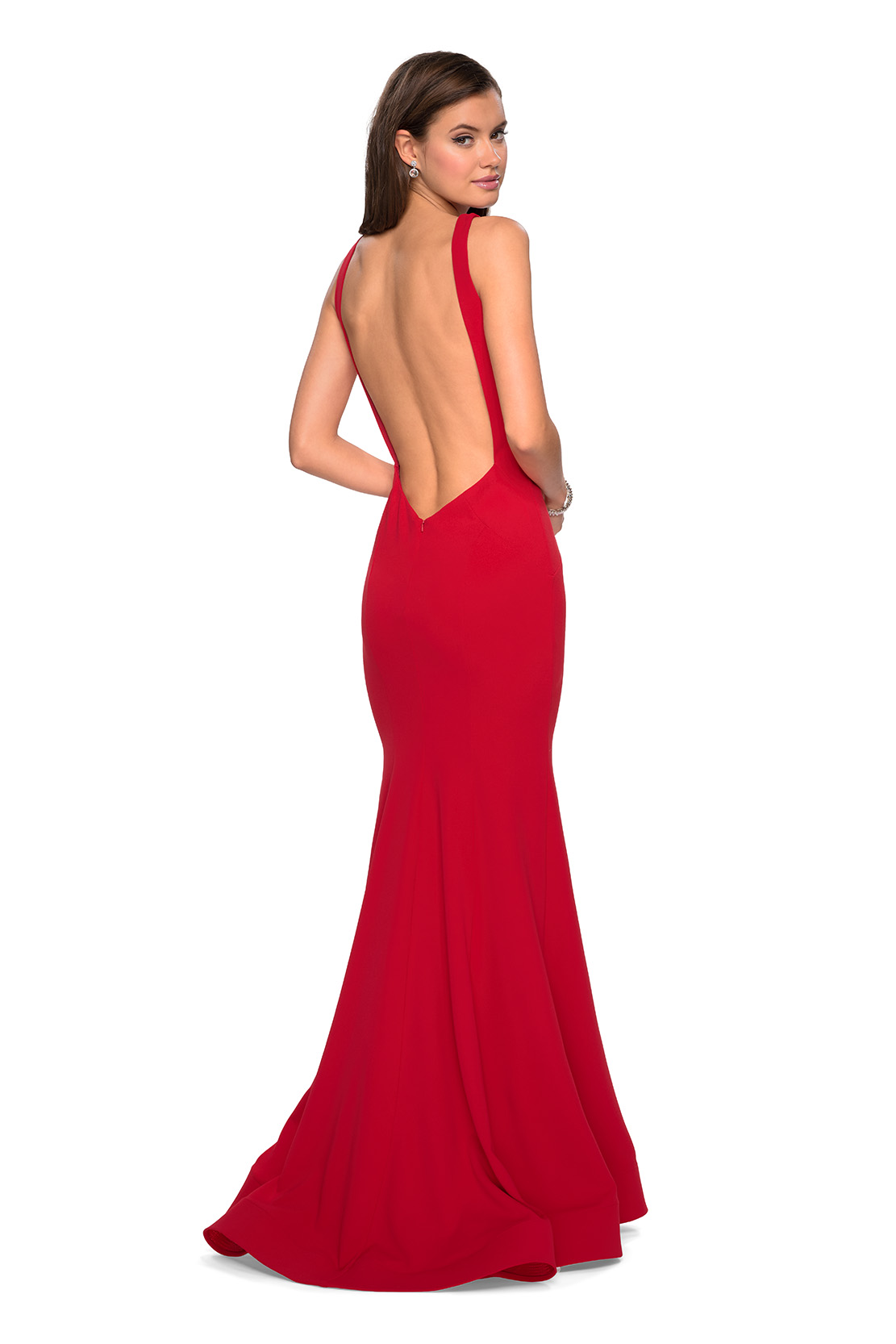 Shop Style 27124 Red above HERE
Second – fabrics! There are hundreds of dress fabrics to choose from. Jersey prom dresses are super comfortable and some of the simple dress styles give you the freedom for any type of jewelry or shoe. Who doesn't love a dress you can wear a crazy shoe with!? New to La Femme this year is an amazing stretch satin prom dress collection – these dresses are super fitted and come in stunning vibrant colors! Not to mention, also comfortable! Another trend we have seen come back is sequin prom dresses. We have several sequin dresses in different styles that we can't wait to show you! We could go on for days about fabric, but our final highlight is on stretch lace prom dresses. These styles are fitted and one more time, comfortable J Apparently we have a theme going about comfortable prom dresses!
Shop Style 27476 Cloud Blue HERE
Third – styles, oh how there are so many styles for prom dresses this year! A classic mermaid prom dress will always look good and is appropriate for many events outside of prom. A-line prom dresses are a great option if you want a girly style that is also easy to move around in. Dresses with high slits are making a huge come back after celebrities like Chrissy Teigen wore this style all over the red carpet. We have many high slit prom dress styles to choose from so you can get your celeb inspired look!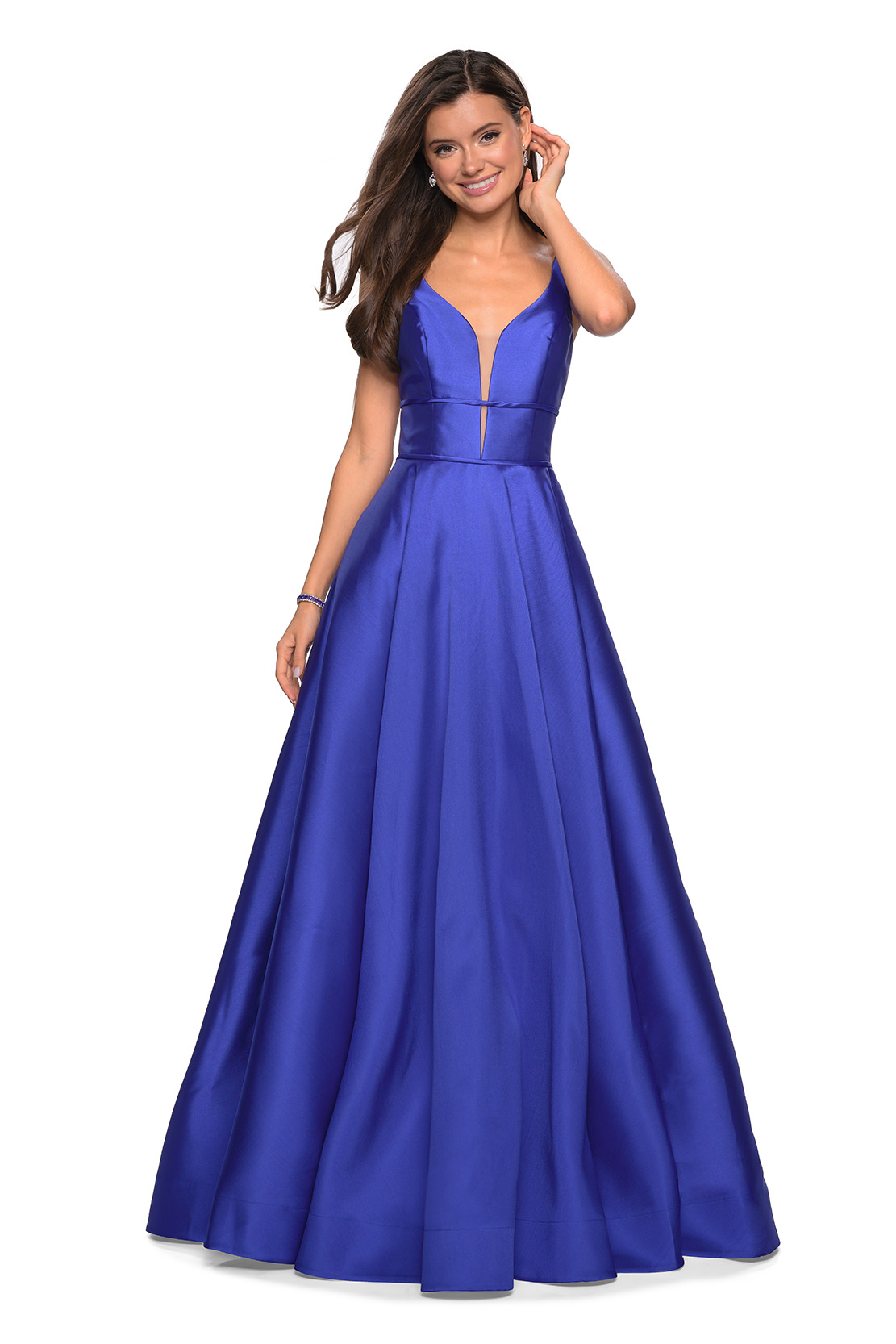 Shop Style 26768 Sapphire Blue above HERE
Lastly, you will need to find where to buy prom dresses near you. There are hundreds of retailers of La Femme dresses across the US, and you can search your zip code on our store locator CLICK HERE.
Going into a retailer can be a fun experience and a helpful way to REALLY see what type of dress you love and makes you feel the best. You get personal service and guidance on how to pick your prom dress. Be careful when purchasing from an online retailer, make sure the retailer is an authorized seller of the designer brand you are buying. You do not want to end up in one of those news articles comparing what someone bought online to what the picture was from the REAL designer!
We hope you find the best prom dresses this year and don't forget to connect with us on social media:
Instagram:  @lafemmefashion
Twitter: @lafemmefashion  
Facebook: La Femme Fashion
Snapchat: @lafemmeprom